Medical Cultures, Traditions, and Law
Funded by the Buffett Institute for Global Studies in support of its Global Medical Cultures and Law Research Group
 Medical Cultures, Traditions, and Law | May 5-7, 2017
Keynote dialogue
"Intellectual Property, Debt, and Traditional Knowledge"
MADHAVI SUNDER  Law, University of California  - Davis
CHIDI OGUAMANAM  Law, University of Ottawa
Conference details
The faculty conveners of the Global Medical Cultures and Law Research Group have joined forces to examine three phenomena over the long 20th century: the globalization of biomedicine, the codification of traditional medicine, and the constitutive role of the law in these processes.
All societies have healing systems. Yet over the last 150 years, one system has become dominant around the world: biomedicine. While it might be tempting to attribute biomedicine's successes to its effectiveness in curing diseases and extending lives, the historical reality has been less clear-cut. The resurgence of interest in traditional medicine in the second half of the twentieth century arguably grew out of critiques of biomedicine's limits and a burgeoning awareness that different healing practices, long stifled or marginalized, deserved closer scrutiny. Until now, few scholars have attempted to examine these dynamics together or assess their legal underpinnings.
Our efforts are supported by the Science in Human Culture program and work in synergy with other interdisciplinary programs across Northwestern including international studies, medical humanities, global health, and legal studies. Group members come from history, law, anthropology, political science, sociology, and public policy, and bring a wide variety of regional expertise to the table.
Research questions that we plan to address between 2016 and 2019 include:
To what extent and through what legal, institutional, economic, and political instruments has biomedicine been globalized?
In what ways did different disciplinary, geopolitical, economic, and legal phenomena play a role in codifying "traditional medicine"?
What kinds of ideas about culture, heritage, and ancestry operate in controversies over patenting traditional knowledge and medicine? How are these conflicts different from those surrounding access to drugs and patent-protected versus generic options?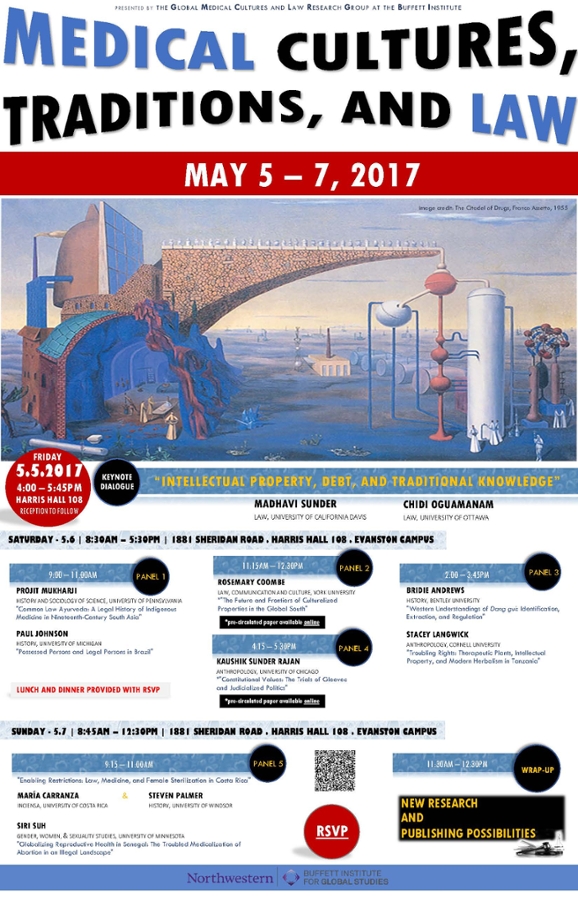 Co-directors
HELEN TILLEY  history, 2016-18 coordinator


JEANNETTE COLYVAS  sesp

CAROL HEIMER  sociology

REBECCA SELIGMAN  anthropology