Doctoral Colloquium
The doctoral colloquium is a student-run colloquium that enables graduate students to try out grant proposals, present dissertation chapters, give practice job talks, discuss issues of professional development and hear visiting speakers. The colloquium meet on Mondays 4:30-6:00pm.


The 2021-22 Colloquium Coordinator is Juan Fernando León.

Students who would like to be added to the colloquium mailing list should contact Janet Hundrieser, the Science in Human Culture Program Administrator.

 
Schedule for 2021-2022

Fall Quarter
October 11 - All SHC graduate students and affliates are encouraged to attend this initial session as we will plan the agenda for the Fall quarter and the remainder of the academic year. As in previous years, come with projects, readings, speakers, field trip proposals, local events, and other ideas you want the doctoral colloquium to promote and sponsor. If you cannot attend, please email Juan Fernando León to ensure they are considered.   
October 25  - Social Event at Five and Dime, 1026 Davis Street, Evanston, Illinois
One of the Doctoral Colloquium's goals for this year is reigniting our sense of community. The global pandemic placed numerous stresses on our lives, more on some than others, but equally in our ability to gather and network with fellows and affiliates in the program. To recover lost opportunities to connect, we decided to devote one of our meetings to host a social event. 
November 1 - Reading of The Word for World is Forest (1972), by Ursula K. Le Guin
Good science fiction is less about envisioning future worlds and more about depicting the most significant vices of its era. Unlike other genres, fiction moves across noetic planes of reality to broach sensitive topics like race, gender, power, knowledge production, colonialism, environmental degradation, and climate change in ways our disciplinary fields often cannot. Aside from triggering interdisciplinary conversations, creative spaces can provoke new dialogues about pedagogy and curriculum development if nudged in that direction. To that end, The Word for World is Forest can offer alternative ways to think and teach about racial theories, imperial means of being and production, and ecological thought. For those who prefer a visual review of the novel, I've included Ben Passmore's formidable summary of the book here.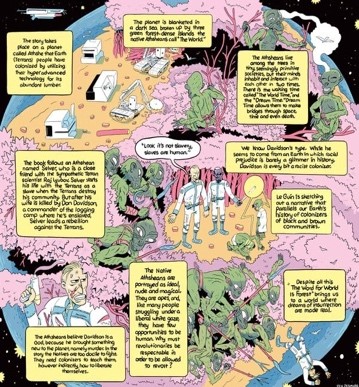 November 15 - Elysse Longiotti, Northwestern University Career Advancement
The presentation will concentrate on Academic Jobs. Attendees will learn more about developing and nurturing professional relationships, their role in career exploration, and effective ways to communicate professionally on and off-line. Following the 45-minute presentation, fellows, affiliates, and postdocs will discuss career prospecting strategies and academic journeys before and after graduation.
Back to top