2022-2023
The doctoral colloquium is a student-run colloquium that enables graduate students to try out grant proposals, present dissertation chapters, give practice job talks, discuss issues of professional development and hear visiting speakers. The colloquium meet on Mondays 4:30-6:00pm.


The 2022-23 Colloquium Coordinator is Austin Jenkins

Students who would like to be added to the colloquium mailing list should contact Janet Hundrieser, the Science in Human Culture Program Administrator.
Fall
September 26
Welcome and introductions, colloquia planning for the year ahead
November 7
Discussion: Karen Barad's Meeting the Universe Halfway and Bruno Latour's Pandora's Hope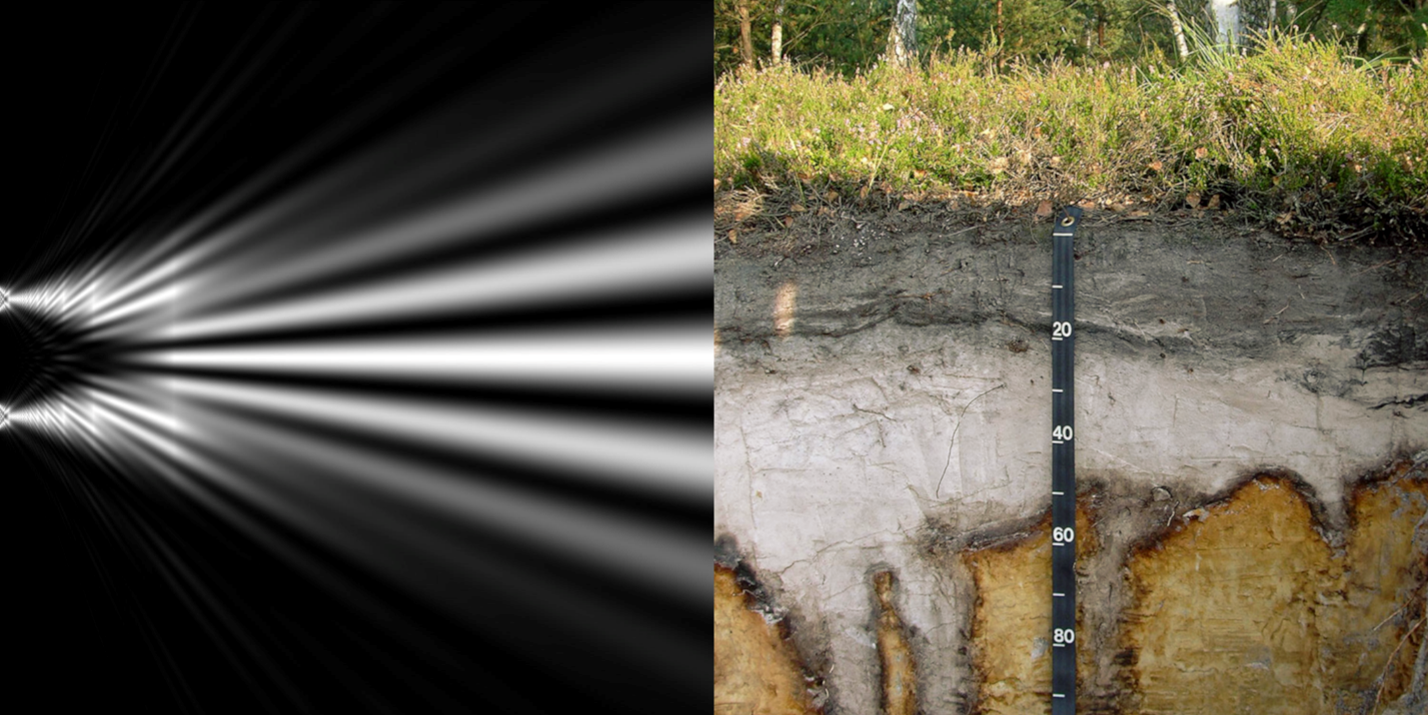 Karen Barad holds a Ph.D. in theoretical particle physics and is the Professor of Feminist Studies, Philosophy, and History of Consciousness at the University of California at Santa Cruz. Meeting the Universe Halfway: Quantum Physics and the Entanglement of Matter and Meaning, published by Duke University Press in 2007, uses the work of Niels Bohr to develop the epistemological, ontological, and ethical framework of "agential realism."
The late Bruno Latour was a French philosopher, anthropologist, and sociologist whose work was central to the development of science and technology studies. Pandora's Hope: Essays on the Reality of Science Studies, published in 1999 by Harvard University Press, uses examples including an ethnographic analysis of an international soil research project in the Amazon to provide a critical reexamination of the so-called "science wars" of the late twentieth century.
November 14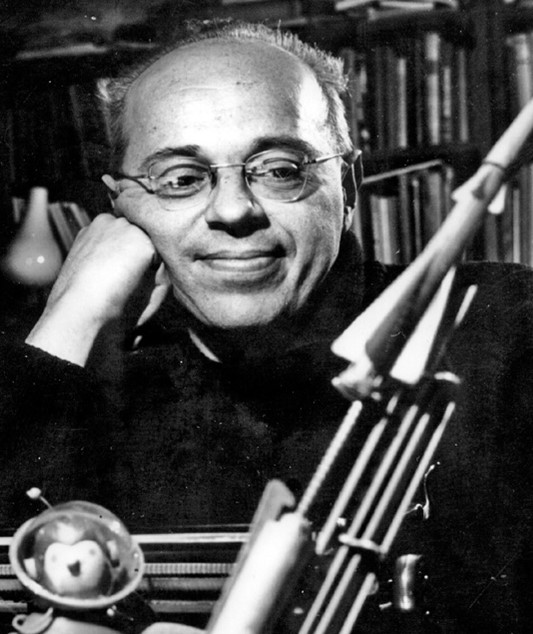 Discussion: Stanisław L­­­em's "The Mask" and Ted Chiang's "Story of Your Life"
Stanisław Lem was a widely influential Polish science fiction writer and essayist. "The Mask" was written and published in 1974.
Ted Chiang is an acclaimed American science fiction writer. "Story of Your Life" was first published in 1998 and is best known as the basis of the 2016 Denis Villeneuve film Arrival.
Winter quarter
January 23

Q&A with Karen Merikangas Darling (Executive Editor, The University of Chicago Press)
Karen Merikangas Darling is an executive editor at The University of Chicago Press and manages acquisitions in the subjects of history of science, technology, and the environment and philosophy, sociology, and anthropology of science, medicine, and technology. Darling's recent acquisitions include Deborah R. Coen's Climate in Motion: Science, Empire, and the Problem of Scale, James Poskett's Materials of the Mind: Phrenology, Race, and the Global History of Science, 1815–1920, and Simon Werrett's Thrifty Science: Making the Most of Materials in the History of Experiment.
Merikangas Darling holds a Ph.D. in the philosophy of science from Northwestern University and previously worked as the managing editor of Ethics: An International Journal of Social, Political, and Legal Philosophy.
January 30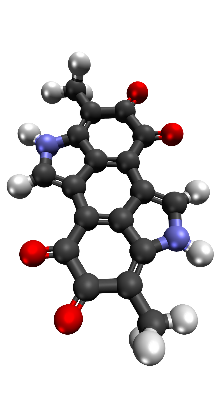 Discussion of race, ancestry, and human difference in biomedicine with Santiago J. Molina who is a Mellon Postdoctoral Fellow in the Department of Sociology and Science in Human Culture at Northwestern University and Michelle N. Huang, Assistant Professor in the Department of English and the Asian American Studies Program at Northwestern University.
Readings:
Mitchell, Robert (2016) "Biopolitics and Population Aesthetics" South Atlantic Quarterly 115(2): 367–398.
Yudell, Michael, Dorothy Roberts, Rob DeSalle, and Sarah Tishkoff (2016) "Taking Race Out of Human Genetics" Science 351(6273): 564–565.
Molina, Santiago José (2017) "Amerindians, Europeans, Makiritare, Mestizos, Puerto Rican, and Quechua: Categorical Heterogeneity in Latin American Human Biology" Perspectives on Science, 25(5): 655–679.
Copies of these readings can be requested by contacting Austin Jenkins
Spring
April 3

Student Workshop
Discussion of works in progress by Northwestern sociology students Xi Wang and Michelle Lee
April 10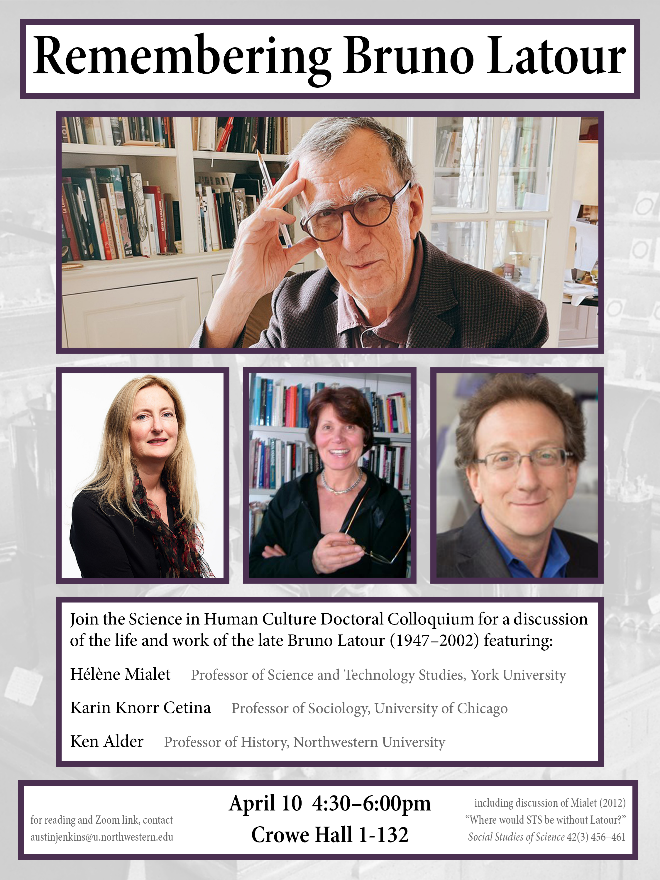 Discussion of the life and work of science studies pioneer Bruno Latour (1947-2002) featuring three noted scholars and personal acquaintances of Latour:
Hélène Mialet (York University) is a well-known ethnographer and scholar of science and technology studies. She is the author of Hawking Incorporated: Stephen Hawking and The Anthropology of the Knowing Subject.
Karin Knorr Cetina (University of Chicago) is a highly influential sociologist and anthropologist best known for her work on epistemic cultures and global finance. Her books include The Manufacture of Knowledge and Epistemic Cultures: How the Sciences Make Knowledge.
Ken Alder is a noted historian of science and technology at Northwestern University. His books include The Measure of All Things, which examines the origins of the metric system in Revolutionary France, and The Lie Detectors: The History of an American Obsession.
May 20
Tour of Argonne National Laboratory, Lemont, Illinois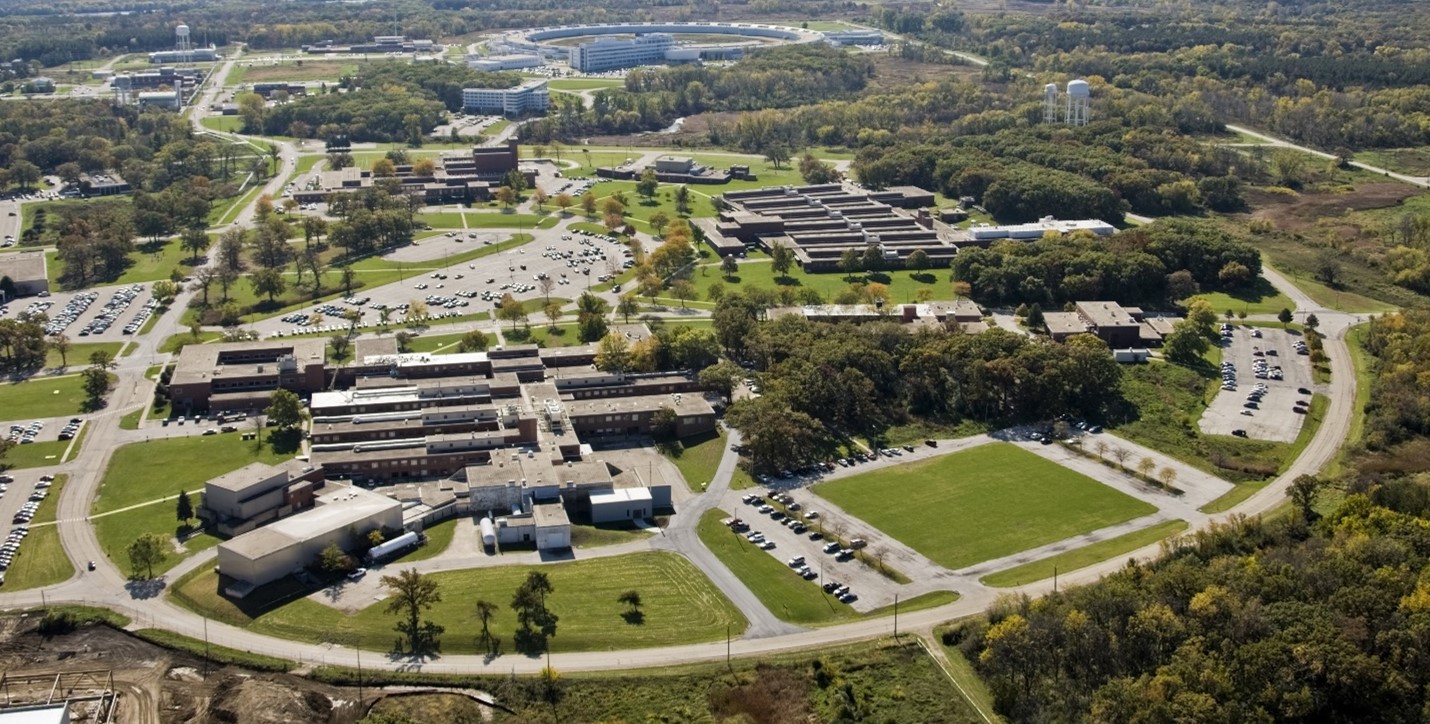 Argonne National Laboratory began as an outgrowth of Manhattan Project research helmed by Enrico Fermi at the Metallurgical Laboratory at the University of Chicago. After the world's first nuclear reactor, Chicago Pile-1, was deemed unsafe to be housed under the viewing stands of the Univerity of Chicago's Stagg Field, it was disassembled and moved to a secret site in a forest preserve southwest of Chicago.
Since the Laboratory's official chartering in 1946, scientists at Argonne have originated or participated in numerous scientific advances, including the creation of the first ultrasound images of a human body and the discovery of the elements einsteinium and fermium. Experiments at Argonne National Laboratory played an especially critical role in the development of commercial nuclear power.
Today, Argonne National Laboratory's research portfolio includes basic science, energy storage and renewable energy, environmental sustainability, supercomputing, and national security.